Sally Hansen Salon Effects are nail strips that are made of real nail polish. There a several different colors and designs and are supposed to last up to 10 days. The sets range from solid colors to denim inspired. I picked up the two that looked most interesting to me.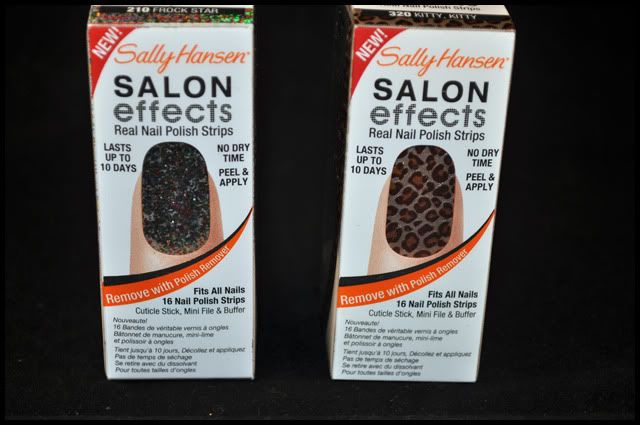 Frock Star is almost identical to Deborah Lippmann Happy Birthday, which is probably why it caught my eye. I love that polish! Kitty Kitty looked like fun, too. I tried Frock Star first, and now that I have tried Kitty Kitty, I must say the application varied quite a bit.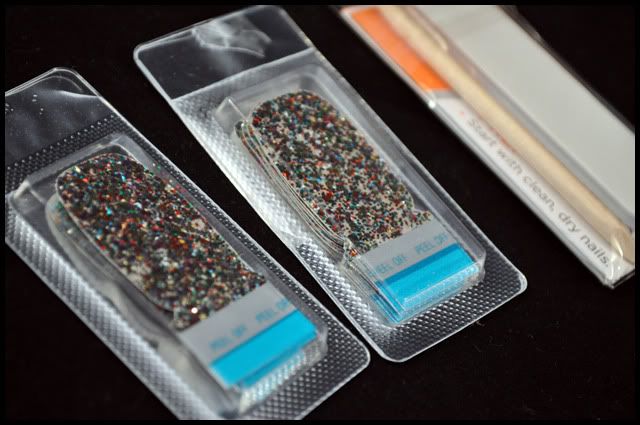 Each set comes with 16 nail strips in various sizes, a wooden cuticle stick, a mini nail file, and detailed instructions with pictures.
Price: I purchased these sets for $9.99 at Walgreens, but I believe they range from $7.99 to $9.99 depending where you go. Even for $8, I personally do not think these are worth it. Most of the designs that are available can be easily replicated with Konad stamping or a simple glitter polish. The sets do cost less than a professional manicure, but that still does not justify the price of these one-time (maybe two, if you have smaller nails) use nail strips. I think a price point of $5 would be much better.
Application: The application directions are simple: be sure your nails are free from any residue by cleaning them with polish remover, pick out a nail strip, stretch it to fit your nail, and file off the excess. My first experience applying these was not pleasant at all. I spent a lot of time cutting the strips to fit the shape of my cuticles better because they are so round. This time, I couldn't be bothered, and just applied the closest fitting strip to my nail. The awesome thing about these strips that I failed to notice the first time is these nail strips stretch to fit your nail. I still had some gaps, and I would still do a little trimming if I wore these again, but the stretchy consistency of the strips definitely helps.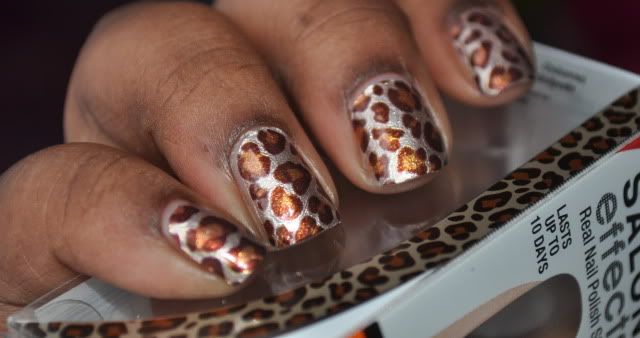 Wear: I wore the Kitty Kitty set for five days before I couldn't stand it anymore. The wear was okay, and I did not experience any major chipping, but I did have a little bit of lifting at the corners of my nails. They seemed secure at the time of application, so I do not think it was user error. I am very skeptical that these could last 10 days without any chipping or peeling.

Overall: The utility of these sets is going to be a personal decision. For me, these are not worth the money. Considering how many manicures I get out of one bottle of polish, I cannot justify the purchase of these. However, if you hate painting your nails and/or want a special design once in a while, these may be worth checking out.
What do you think of the new Sally Hansen Salon Effects? Do you think these strips are worth trying? Discuss in the comments or over at MakeupTalk's Nail Talk forum!

xxx